The Fertility Centre Management and Admin team

Professor Jason Kasraie
Consultant Clinical Embryologist & Andrologist. Person Responsible for the Centre with the HFEA
Jason Kasraie is the Head of Fertility Services and Consultant Embryologist & Andrologist. He is a Clinical Scientist with 25 years' experience in the field. He is also the Human Fertilisation & Embryology Authority (HFEA) 'Person Responsible' for the service, taking legal responsibility for all work in the Centre.
As the scientific lead for the service, Jason works to ensure that patients and their embryos receive the highest quality of care and that the latest evidence based techniques are used in order to maximise the chance of pregnancy for patients. You may see Jason when you attend the department for your egg collection or embryo transfer or in a treatment review clinic to discuss embryo quality and future treatment plans.
Read More..
Jason is a visiting Professor at the University of Chester/ University Centre Shrewsbury and is the Organisational Lead Scientist for the Shrewsbury and Telford Hospitals NHS Trust.
After completing his undergraduate degree at Sheffield Hallam University he was awarded an MSc with Distinction in reproduction and development at the University of Bristol and received the 'Gordon Stirrat' prize for achievement during his studies.
He is a Fellow of the Royal College of Pathologists (FRCPath), a co-author of the college's Higher Specialist Scientific Training (HSST) curriculum in Reproductive Science and a member of the examination committee for Reproductive Science at the college.
Jason is Chair of the Association of Clinical Embryologists (ACE), the professional body for embryologists in the UK and a past Chair of the joint executive committees of ACE, the British Fertility Society and the Society for Reproduction and Fertility.
He is an external advisor to the HFEA, a director of and examiner for the Association of Clinical Scientists, a member of the Academy for Healthcare Science (AHCS) professional council and an assessor for the AHCS higher specialist register. He works with the National School of Healthcare Science as an OSFA examiner for their scientific training programme.
Jason has led the development of the Shropshire and Mid-Wales Fertility centre, working with the team to introduce IVF on-site at the Royal Shrewsbury Hospital in 2003 and, most recently, the movement of the centre to new purpose built facilities in the Severn Fields health village.
He has published and presented on many aspects of assisted conception and fertility and his special interests are fertility preservation, the aetiology of infertility and the non-invasive maximisation of embryo developmental potential.
Nicola Taylor
Nurse Manager
Nicky is our Nurse Manager and has worked at Shropshire and Mid Wales Fertility Centre since February 2018 and has worked in the Trust for over 30 years. Her role is partly managerial and partly clinical so you will see her in all areas of the clinic. She has recently completed a Masters module in Fertility at Edge Hill University.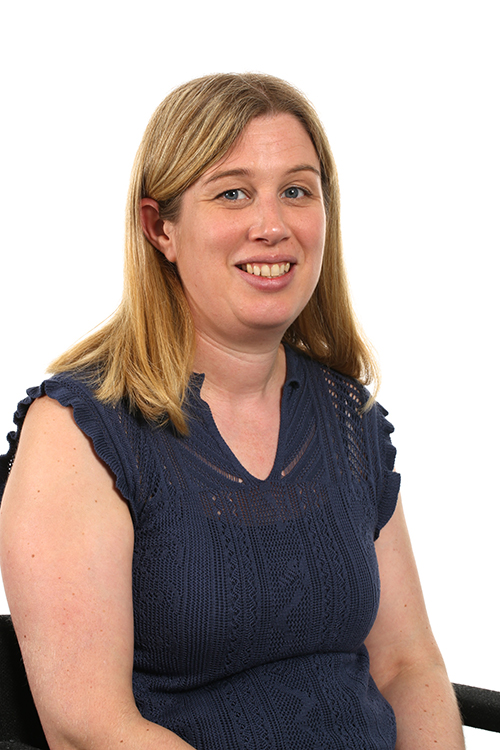 Claire Corfield
Fertility Quality Manager
Claire is the Fertility Quality Manager. She has worked for the centre since 2017. She holds First Class degree in Biomedical Sciences from the University of Wolverhampton. Claire has a varied role working to ensure compliance to HFEA Code of Practice, Trust policies and local procedures and manages the administrative team. Claire is your point of contact if you would like to make any suggestions to improve the service we offer and in the unlikely event of you having issues with our service she is also our designated complaints officer.
Admin
Hannah Fellows
Hannah joined the Fertility Unit in 2018 as an Assistant Fertility Secretary and is now our Finance and Contracts Liaison Officer.  Hannah manages the contracts with Local Commissioning Groups and is Personal Assistant to Professor Kasraie.  You may speak to Hannah when you call the unit.
Louise Simmonds
Louise is Dr Awe's Medical Secretary and has been in the Fertility Unit since the service started in 1991 and has also been Mr Sizer's Private Practice Secretary for the past 10 years.  Louise is happy to take calls from patients and GP's with queries regarding booking or rearranging NHS outpatient appointments in both Dr Awe's Fertility and Gynaecology Clinics.  Patients and Healthcare Practitioners are welcome to call or e-mail with any general questions.
Tracey Evans
Tracey is Mr Sizer and Mr Karunakaran's NHS Medical Secretary and you may speak with her if you telephone the Unit. She has worked for the Service since 2001. Previous to this Tracey has worked in the Private Sector and has over 30 years of Clerical and Administration experience.  As Mr Sizer and Mr Karunakaran's NHS Secretary Tracey is responsible for all of Mr Sizer and Mr Karunakaran's NHS Correspondence and is more than happy to help with any queries from Doctors or Patients regarding Fertility, Gynaecology or Antenatal Clinics.

Caroline Aston
Caroline is a Senior Fertility Administrative Assistant and has worked for the fertility department since 2010. You may see Caroline when you book in at Reception.  Caroline is our designated HFEA administrator and records all the information they require in relation to the terms and conditions of the HFEA Licence.
Sarah Stokes
Sarah joined our team in 2020 as one of our Senior Fertility Admin Assistants.  Prior to this Sarah worked elsewhere in the Trust for Patient Safety.  Sarah will help you with any queries relating to your treatment costs and medication bills.   As part of the Admin Team, you may also speak with Sarah on our Nurse telephone line, where she will be happy to help with any questions you may have or relay to the appropriate Fertility Team.
Anthea Bowkett
Anthea joined the team in 2020 as one of our Senior Fertility Administration Assistants.  You may speak to Anthea if you need to book or change an appointment.
Meriel Lutwyche
Meriel is the Receptionist. She has worked for the Fertility Unit since 2016, prior to this she worked for the Women's & Children's department at SATH for 16 years. You may see Meriel when you attend appointments at the reception desk.
Julie Reiling
Counsellor
Julie joined Shropshire & Mid Wales Fertility Centre in 2018 and is our fertility counsellor. Julie has worked in the field of reproductive medicine for many years, is a senior accredited member of British Association Counselling and Psychotherapy (BACP) and has a Masters degree in counselling psychology. Julie is also a Mindfulness Practioner (level I, II, III and masters). Julie is available to see both NHS and self-funded patients.
Bethany Pope-Terry
Bethany joined Shropshire & Mid Wales Fertility Centre in 2022 and is one of our Senior Admin Assistants. Bethany's main role is to take care of initial queries and bookings for Fertility Health Checks and Self-funded patients. Bethany also helps to update the HFEA with patient treatment details. If you have a fee-paying query, or want to book a health check, you may speak to Bethany.